Product Description
Resin buttons commonly known as unsaturated polyester resin buttons are made of unsaturated polyester resin as the main raw material. Unsaturated polyester resin buttons can be used in water at 40°C, 50°C, 60°C or 95°C. Corrosion resistance to laundry detergent . These temperatures cover all modes of washing from gentle to vigorous in the laundry process.

Resin buttons can withstand ordinary high temperatures. Generally, resin buttons can withstand hot water treatment at 100°C for about an hour. When the garment is ironed, it is not necessary to remove the buttons. This is also not available in Other ordinary plastic buttons. It should be noted that, The button cannot withstand the high pressure cooking of a pressure cooker.

Introduction of resin buttons

Name: stick flower buckle
Material: Resin
Color: brown
Size: 44L
Uses: suits, fashions, coats, coats, jackets
Process: Lettering and engraving patterns can be processed, oil injection, color can be made according to customer requirements


Our resin buttons series products, in addition to magnetic resin buttons, also have transparent resin buttons,mitation shell resin buttons , mitation horn resin buttons and other various buttons, which can meet the decoration or other needs of various clothes, backpacks and other fabrics.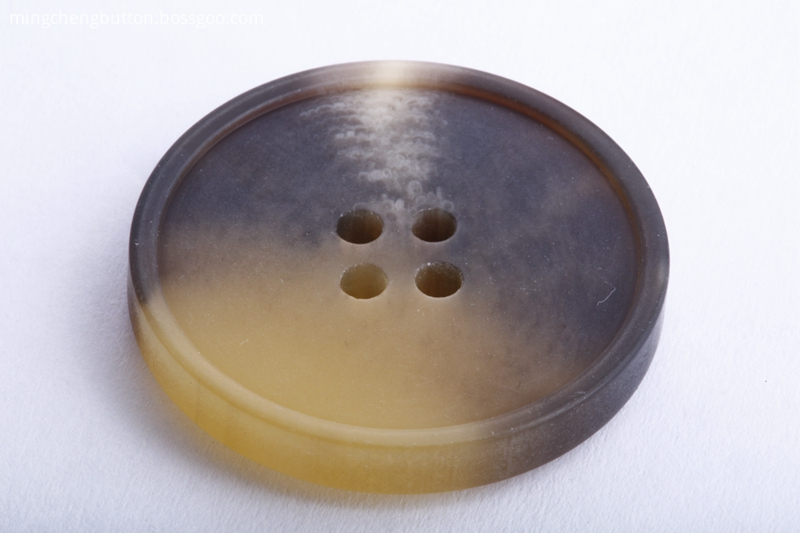 Jiangmen Mingcheng Button Co., Ltd.
BTN INTERNATIONAL INDUSTRIAL LIMITED is a Hong Kong-owned wholly-owned enterprise, founded in 1999 in Shajing, Shenzhen, Guangdong, and officially registered in Hong Kong in 2004. In 2005, it acquired UNITED BUTTON FACTORY LIMITED and established Jiangmen Mingcheng Button Factory Co., Ltd. in the same year.
Our company integrates manufacturing and import and export trade into garment accessories international industrial co., LTD.
The environmental protection quality of our products for more than ten years has reached the OEKO-TEX EU standard...
Our products passed the GRS certification for recycled materials in 2020.
Our products will continue to be developed in PLA biodegradable materials.
Our products have been serving all major clothing brands.
We insist on working hard to become a high-quality supplier of internationally renowned brands and continue to move forward.
Company Name: Jiangmen Mingcheng Button Co., Ltd.
Product/Service: Natural Buttons , Resin Buttons , Metal Buttons , Shell Buttons , Horn Buttons , Wooden Buttons
Contact Person: Ms. winnie Feng
Tel: +86-0750-3651688